H1Z1


Developer(s)
Daybreak Game Company
Publisher(s)
Daybreak Game Company
Engine
Forgelight Engine
Platform(s)
PlayStation 4


Microsoft Windows

Release date(s)
Microsoft Windows


15 January 2015 (Early Access)

Genre(s)
Survival, massively multiplayer online game
H1Z1 is a survival sandbox massively multiplayer online game in development by Daybreak Game Company (formerly Sony Online Entertainment). H1Z1 is currently being developed in Early Access release for Microsoft Windows and eventually PlayStation 4.[1]
The game is set during a zombie apocalypse in the rural United States, in which players will have to survive against the natural elements, hordes of undead, and thousands of potentially hostile survivors through interaction, scavenging for resources, building shelters, and crafting.
GameplayEdit
Edit
The gameplay of H1Z1 emphasizes on multiplayer cooperation, trading, and team-building.[2] In an interview with Adam Clegg from Sony Online Entertainment, he made clear that unlike other zombie massively multiplayer online games, the main focus will be about surviving against the zombies through teamwork with other players, rather than having a player versus player (PvP) environment with zombies as a backdrop.[3] the ability to craft items has been implemented.
It has been confirmed that there will be no "safe zones" in the map, it will be a fight for survival from the moment the player spawns. The developers have noted that during the games production they researched the real life island of Poveglia in the Venetian lagoon extensively which was used as a plague colony in the 18th century and have stated that this factors into the lore of the game. Sony Online Entertainment plans to have a large map area and will be adding large expanses of area as time passes (whilst in development it has been noted by Matt Broome Sony Online Entertainment on a podcast that the current development map is increasing by approximately 10% each week). New areas can be added very quickly, and as the map increase so will the amount of players that the map can hold. While they have not stated a final size they hope to have on release, it has been said there will not be loading screens as you travel to different areas, this also includes player housing and compounds which the developers have decided not to individually instance meaning they are open to anyone who can find a way in. Eventually, the map is hoped to become between the size of a state, or all of America.
Topographical map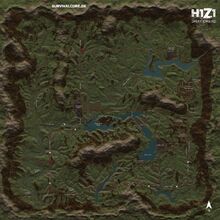 ReferencesEdit
Edit
Pitcher, Jenna (9 April 2014). "SOE spills details on post-apocalyptic MMO H1Z1 heading to PC, PS4". Polygon. Retrieved 11 April 2014.
"First footage of H1Z1 Sony's zombie apocalypse MMO". MetroUK. 10 April 2014. Retrieved 11 April 2014.
"H1Z1 Developer Interview with Adam "The Zombie" Clegg". MMO Attack. 30 April 2014. Retrieved 7 May 2014.
Sony Online, Entertainment. "The World".
External linksEdit
Edit
Read in another language
Content is available under CC BY-SA 3.0 unless otherwise noted.